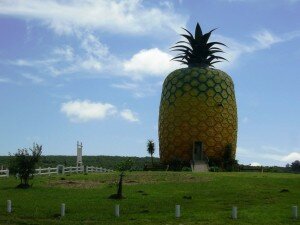 It stands 16.7m high and has 3 floors. It is constructed out of a fibreglass outer skin covering a steel and concrete superstructure.
The ground floor has a gift shop full of pineapple goodies such as jams and chutneys, locally made pottery and puzzles as well as t-shirts and hats to name but a few of the items for sale ideal for overseas and local tourists looking for that small gift to take home!

The 1st floor has tourist information and static displays of the Pineapple Story. A must visit for kids doing school projects
The 2nd floor has a continuous DVD on the Eastern Cape pineapple industry and leads up to the observation deck with magnificent 360°views over rolling farm lands to the Indian Ocean
You will find us on the outskirts of Bathurst just off the R67, only 15km from Port Alfred
Open Monday to Sunday 9am to 5pm (Winter until 4pm)
Tel: E-mail:
Just another thing we beat the Australians at!